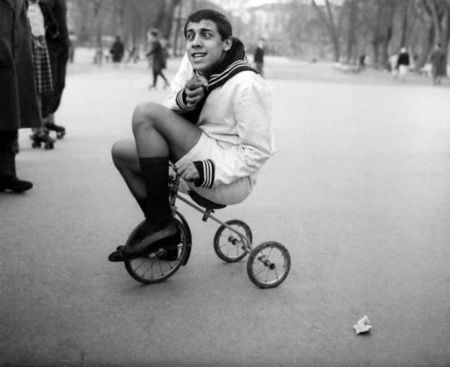 The 65th Venice Film Festival celebrates
Adriano Celentano's return
with his film Yuppi Du
On the occasion of the 65th Venice Film Festival directed by Marco Müller, the Venice Lido hosted an extraordinary event dedicated to the return to the lagoon of Adriano Celentano and Claudia Mori.
After the delicate restoration and soundtrack remixing of 1975 cult-movie Yuppi Du directed by Adriano Celentano, and after a two-year-long wait, the film – set mainly in Venice and starring, apart from Celentano himself, Charlotte Rampling and Claudia Mori – came back home to Venice Film Festival. The world premiere of the restored and newly cut version took place in Palazzo del Cinema on September 4th, in the presence of director, actor, producer and author Adriano Celentano.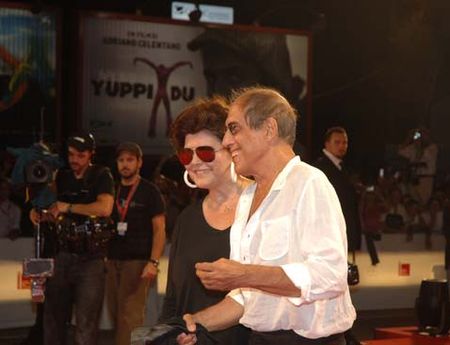 The film, certainly the most important and representative of Celentano's film-making career, is a work that, more than thirty years after its preview at the Cannes Film Festival (where it was extremely well-received both by the Italian and foreign press), reveals the relevance of its themes still today (dealing with deaths in workplaces, unemployment, the difficulties of living on the breadline, pollution, shipbuilding yards and chemical factories, social inequality). Yuppi Du is an unclassifiable work, a harbinger of its time, distinguished by striking intuition and a quirky rhythm, able to swing between the comical and the dramatic, from a fable-like tone to musical joyfulness.
Yuppi Du represents the cinematic climax of Adriano Celentano's environmental awareness, previously expressed in music with the song "Il Ragazzo della Via Gluck". From the very moment of its release in theatres (March 7th, 1975), the film garnered enthusiastic critical praise and conquered the hearts of the public, who immediately decreed its status as a box-office hit (also guaranteed by the song of the same title, which the following year went on to win the Silver Ribbon for the best score, and by an innovative advertising campaign).
Yuppi Du fast became a cult-movie of 1970s Italian cinema, but remained largely unseen abroad. In Italytoo, entire generations have not had the opportunity to see it, despite it being a much-talked about film. In fact, it has never been released on video or DVD.
REVIEWS
«From authentic pop hero, the debut director has managed to translate into images the proverbial conviviality of his old dialogues with the crowds. Yuppi Du is an aggressive film, colourful, vivacious, which relies on a carousel of expressive inventions: certain perspectives of life in Venice are worthy of a Minelli-like musical; and the vision of a grey Milan, trodden by the crowds enveloped in smog, harks back to the pro-environmental vein of his song, "Il Ragazzo di Via Gluck".» (Tullio Kezich - Il Mille Film. Dieci Anni al Cinema 1967-1977, published by Il Formichiere).
The imagination and rhythms of an intuitive director, who has rapidly updated himself on avant-garde cinema and new theatre... and he has put together the salient points in a youthful, entertaining, unpredictable show, where naivety encounters sophisticated satire, a tortured prank.» (Giovanni Grazzini - Il Corriere della Sera, March 8, 1975).
«With its purely "Celentano look", this musical blends many contemporary styles: Minnelli, Brecht, Jodorovsky, Tinto Brass, in a mélange which is as tentative as it is bold.» (Massimo Moscati)
«Celentano's dance with a half-naked Rampling is unforgettable. All the environmental and para-evangelical themes that he holds so dear are present, though never with a preaching tone.» (Paolo Mereghetti)
«Still the best-ever film directed by Celentano, or at least the most successful. Strange, full of ideas. It is also one of the few Italian attempts at making a musical. Alfio Contini's lighting is just right, from the greyness of a city to Venice, resplendent for a sequence that, at the time, was presumed to have been directed by Tinto Brass.» (Marco Giusti).
«The number of unforgettable scenes are uncountable: the ample sequence of the wedding ceremony in a church bombarded with music and choirs, where the aristocrats sit on one side and Felice's gang of friends on the other; the big black man who asks for a "Negroni" cocktail in a bar, alongside Felice, who responds by asking for a "Whitey"; Milan cathedral in all its spectral glory, a city inhabited by ghosts, men and women with pale skin, with poor stony faces». (Aldo Fittante)
«For the "architectural" and choreographic anarchy and for its timeless setting, which precedes the rhythm and vision of certain American films by at least twenty years... it is an absorbing and unpredictable cult movie. » (Felice Laudadio).