... la preuve, cet article du New York Times daté du 16 mai.
La presse française, qui couvre Lionel Jospin, Lady Gaga, Michael Douglas et le stand Cacharel, n'a pas que ça à faire. Et puisque Road to Nowhere sera à Venise en septembre, on trouvera bien cinq minutes pour en causer.
~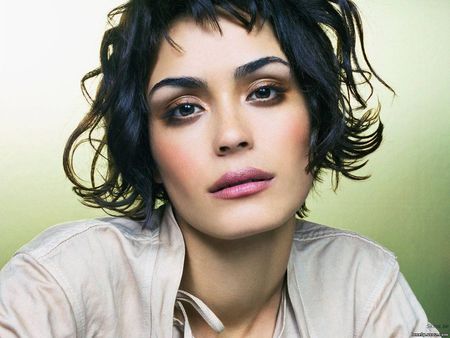 Shannyn Sossamon
~
Elder Statesman's New Story
par John Anderson
That the director Monte Hellman is at the Cannes Film Festival isn't really a news flash. As the elder statesman of the idiosyncratic, independent and overlooked American filmmakers that the French treasure, Mr. Hellman ­ best known for 1971's Two-Lane Blacktop ­ has long been a fixture at this annual gathering along the Mediterranean. But this year Mr. Hellman comes to Cannes with something he has rarely brought with him on his previous trips: a movie to sell. Mr. Hellman's influence may be widespread, but his Hollywood career has been in a state of perpetually arrested development.
«If Robert Altman hadn't had MASH, he never would have been able to make all those other movies,» said the journalist and screenwriter Steven Gaydos. «And Monte never had a MASH.»

Road to Nowhere, the latest from the 77-year-old Mr. Hellman, isn't MASH, but it is enigmatic, elliptical, defiant of formula and possesses his almost perverse aversion to commerciality. Written by Mr. Gaydos and starring Shannyn Sossamon («How to Make It in America»), Cliff de Young, Dominique Swain and Tygh Runyan, Road may also be as significant to the indie feature as Avatar is to the popcorn movie: the entire film was shot on what is essentially a still camera (the Canon 5D Mark II), while looking like a mega-million Hollywood production. («Road cost under five million,» Mr. Gaydos said.)

«The great thing about this camera is you don't need permits because no one knows you're shooting,» said Mr. Hellman, who as a 10-year-old made his first photographic enlarger out of a soup can and a cigar box. «It has the capability of shooting high-def movies. On a little flash card. You can shoot 12 minutes at a time. Which is still more than you could shoot on 35 millimeter; a 35 millimeter reel is 10 minutes. It's fantastic. And it looks like a still camera.» He said another film at Cannes was shot with the same kind of camera, «but they started shooting in December, and we started in July, so I guess we're the first.»

Trying to summarize the plot to Road to Nowhere will get you almost nowhere: a movie within a movie, it involves a North Carolina political scandal, a double suicide, multiple identities and myriad flashbacks, U-turns and pirouettes in the plotline.

«I got really obsessive with the script, trying to have it make sense to me,» Ms. Sossamon said, «because the film is so crazy.»

But the script is exactly what Mr. Hellman says he wanted.

«It's the kind of film I've always been attracted to,» he said. What drew him to his masterpiece, Two-Lane Blacktop, and to a lesser extent the Warren Oates vehicle Cockfighter (1974), was «that they were about a life of gambling,» he said. «My father was a professional gambler, so I kind of have an affinity for that.»

And yet his deeper interest lay elsewhere. «While I love making things as realistic as possible, I'm interested in stories that are a little more surreal,» he said. «I've always been drawn to, say, what Alain Resnais did in Last Year at Marienbad, where there's a kind of puzzle going on. I love to play with the idea of complex reality and mixing memory with present time and the whole idea of reality versus fantasy. So this is a dream project for me.»

The realities of Road to Nowhere, which will play at festivals in the fall including Venice, were harsh: shooting in North Carolina, the production ran out of money; since the plane tickets were already purchased, the crew and actors soldiered on to Europe. («If you stop,» Mr. Hellman said, «then you're dead.») His daughter, Melissa, a co-producer, managed to raise cash through private equity, though less than they needed. «Peter Bart told us we needed $12 million,» Mr. Gaydos said, referring to the former Variety publisher and studio executive, who has a cameo in the film.

They shot in the streets of London, in Verona, in the church of San Pietro in Vincoli, in Rome, in front of Michelangelo's Moses and the tomb of Pope Julius II ­ permitless. «They thought we were tourists,» Mr. Hellman said.

Ms. Sossamon said: «I knew the movie would be a struggle, but I'd never done a movie before where even the producers were all complaining about how broke we were. The European part was at the very end, and we were really tired, and we were staying at this place Monte loves because it's so romantic, but I was like, 'I can't walk on this carpet with bare feet.'» And would she do it again? «Oh, yeah,» she said, a little dreamily. «He already has another film we're going to do together.»

The devotion Mr. Hellman engenders among actors seems rooted in his openness to experiment. Among other acolytes, the attraction lies in a constitutional inability to embrace commercialism and a poetic use of established genre. Two-Lane Blacktop, ostensibly a road movie, for instance, is considered by many one of the great American films. Ride in the Whirlwind (1965) and The Shooting (1967) gave the western an existential spin (and revived the moribund career of Jack Nicholson). Cockfighter (1974), also a road movie, exemplified Mr. Hellman's fascination with relationships and masculinity. And Stanley's Girlfriend, which ignited Mr. Hellman's late-inning rally after 15 years of silence, was lowbrow horror taken uptown: as part of the anthology Trapped Ashe" (2006), it stood out like Secretariat in a parade of pack mules.

Mr. Gaydos, the screenwriter of Road to Nowhere, has known Mr. Hellman since writing him a fan letter 40 years ago, and created the story for him. «I knew one truth about Hollywood,» said Mr. Gaydos, whose is the executive editor of features at Variety: «If I put another name on the list of possible directors, they would go past Monte to that other name. And I didn't want to hear, 'Oh yeah, Monte Hellman, a genius, a brilliant guy, one of the great American filmmakers, a poet, a fantastic talent, Two-Lane Blacktop, a masterpiece. But don't we have someone else more bankable?'»

In 1997 the director George Hickenlooper (Hearts of Darkness) made a short documentary, Monte Hellman: American Auteur. «Monte actually edited my first feature, which was a Roger Corman Civil War vampire movie starring Billy Bob Thornton and Martin Sheen,» Mr. Hickenlooper said. «God awful terrible Roger Corman movie. But I was honored to have Monte edit it.»

But he said making a movie about a «living legend» was revelatory. «He was delighted I wanted to make a documentary about him,» Mr. Hickenlooper said. «But his shyness and humbleness have probably been an obstacle to getting pictures made. His personality is like this film style. He's not aggressive at all.»

Nor is Mr. Hellman that happy about the phrase «living legend».

«I've only been exposed to that term relatively recently,» he said with a laugh. «But it's like getting a lifetime achievement award. I got one, from a film festival in Chicago, and all I could say was, 'Isn't this is a little premature?' I hope it's premature.»